Automatic glass machine,Glass machine supplier
Automatic glass machine is one of the earliest and largest amount of mechanical equipment in glass processing equipment.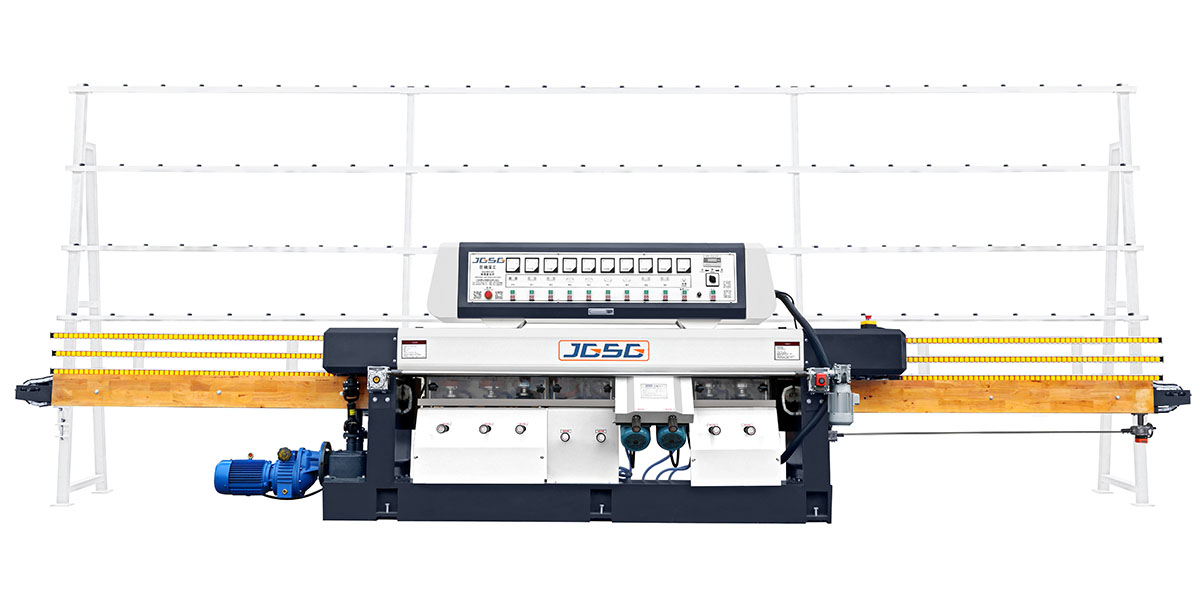 Product Features:
The Automatic glass machine ZM9325-45° is based on the automatic glass machine ZM9325 with the function of multi-level edge grinding. The front chamfering grinding head can be electrically switched 45°to realize multi-level edge, The bottom edge and the rear 45° chamfer can be processed in one time, so that the straight edge and multi-level edge can be processed in one time.
main feature:
1. The base, girders, and head bases are high-quality castings that are firm and stable, and the square girders will never be deformed.
2. The grinding head motor adopts advanced special motor.
3. 2.2kw speed regulator, more durable transmission.
4. Conveyor chain transmission, thickened square tube rack can carry original thick glass for processing.
5. The function of the oil pump to lubricate the grinding seat slide plate can easily adjust the grinding head up and down.
6. The function of ordinary straight edge machine plus the function of 45°.
7. This machine can be customized according to various requirements.
Shunde District, Foshan City, Jugang Shengong Glass Machinery Co., Ltd is a glass machine supplier integrating R&D, manufacturing, sales, after-sales and import and export.
As a glass machine supplier, our company has a strong technical force, a professional technical team, and a sound sales and service team. We are committed to solving the in-depth problems of edge-type production of glass manufacturers for customers. Relying on high-tech technology, excellent quality, reasonable price, honest attitude, good reputation, and thoughtful service,JGSG has won the trust and support of domestic and foreign customers, and its products are sold in major domestic and foreign markets.
JGSG has established a complete production management system and strict quality supervision and inspection system, and scientifically manages the company's operations. Every detail of each product must be carefully inspected and repeatedly debugged to ensure that the product is shipped with "zero" defects. Customer satisfaction, to create value for customers, and to be the best glass machine supplier is the pursuit of everyone at JGSG.
CONTACT US


Foshan Shunde Jugang Shengong Glass Machinery Co., Ltd7
We are always providing our customers with reliable products and considerate services.
If you would like to keep touch with us directly, please go to contact us